Discover Watches for Hiking
Hi, let me first start by introducing myself. My name is Chris Williams, and you've found my site on hiking watches.  Please remember though that this site is primarily for information and my personal opinion with different watches that I've taken a look at for use during my hiking trips. If you looking for a website that sells hiking watches, click here for my favorite hiking watch retailor.
Why am I writing this? Well, for most of my life I have been an avid hiker and outdoors enthusiast. I always felt as though I was truly happy when I was away from the hustle and bustle of my every day city life.  Like many hikers, I never feel more at peace with myself then when I'm somewhere in the outdoors experiencing the solitude and beauty of nature. When I first started looking for hiking watches that might help me explore farther and push the limits of my weekend hiking trips. I started looking on the web to see what others were saying about different watch models. What I found was that there weren't many real reviews around so I thought I'd put this site together to help people learn about watches that are best suited to hikers.  I'll be going into both the good and the bad points of these watches, so if you're just looking for a place to buy hiking watches, you may want to leave now.
Click here for Hiking Watches Online
The future is now when it comes to all the nifty electronics gadgets such as watches that we can use while hiking. These gadgets can be an important navigational and safety tool while we spend our time wandering in the wilderness. I will discuss two watch models and the manufacturers that include several features important to us hikers. These watches include important features such as a compass, altimeter and barometer. My favorite watches for hiking include these features and also serve as multifunctional devices to compliment the hiking experience.
Casio – Global Atomic Pathfinder
Casio is a familiar watch manufacturer for most of us and has been in business since 1946. One of it's latest "Outdoors" watches is the Pathfinder. I personally rank this as my favorite hiking watch as its combination of features including a compass, barometer, altimeter and thermometer are all handy and important tools for use in the wild. Casio's Pathfinder is shock resistant and resists water and low temperatures, making it a logical and affordable choice for hiking in extreme weather conditions. Casio is also an environmentally conscious manufacture. The Pathfinder uses a solar powered battery to power the watch and also uses only recycled packaging.
Freestyle – Touch Compass
Freestyle is relatively unknown watch manufacturer to most of us. They offer affordable products that are surprisingly durable and dependable. The Touch Compass, is billed as a sports watch with digital quartz movement, dark on light display, digital compass with declination adjustment. It's digital grey dial with four touch sensors is very easy to see in all lighting conditions and its unidirectional matte green polycarbonate bezel with engraved compass headings looks great.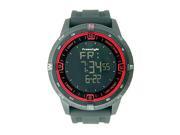 Click Here to Learn More